Oldest American Dipper
Spearfish Canyon, South Dakota

Updated July 4, 2012

Add one more month to her age. Linda & Vernon Hehn found her today. Thanks for checking on her!
She is now 8 years, 1 month, nearly one year older than the previous longevity record.

Updated June June 23, 2012

Elizabeth Krueger found the oldest American Dipper feeding on insects under her home bridge on
June 23, thus bringing her official age up to 8 years old.

One May 30, I saw her in the nest box under the bridge, but couldn't tell if she had eggs or young dippers in there.

Updated March 10, 2012

Ricky Olson and Scott Stolz found her alive and well in the same area I saw her last
December. It is nesting season for dippers now, so maybe she will have another brood this year.
She is at least 7 years 9 months old now. Thanks guys!
Updated December 4, 2011
The Old American Dipper in Spearfish Canyon is four months older, now a
record 7 years, 6 months. She looks plump and fit as she faces the rigors of a new winter.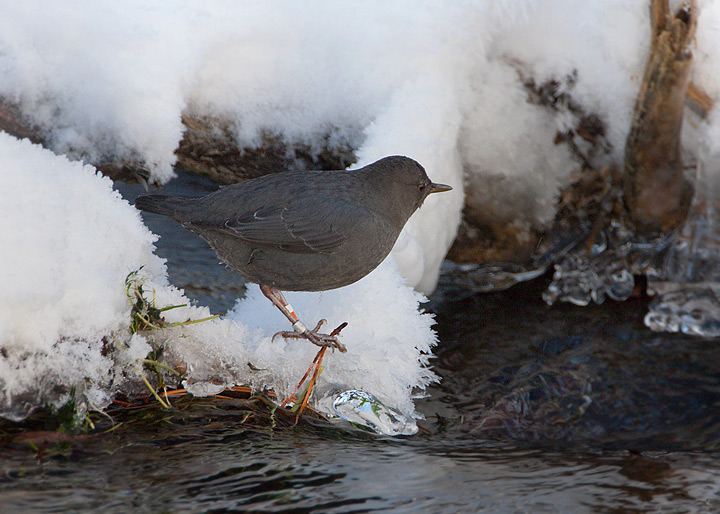 UPDATED September 11, 2011
Today I relocated the American Dipper that was banded April 19, 2005. She is now 7 years 3 months by the Bird Banding Lab criteria, and has broke the old longevity record of 7 years 2 months.
Here are a couple of photos from today: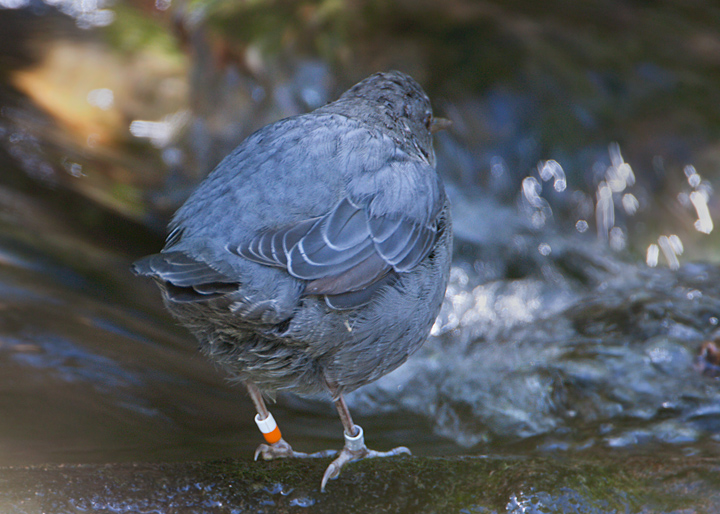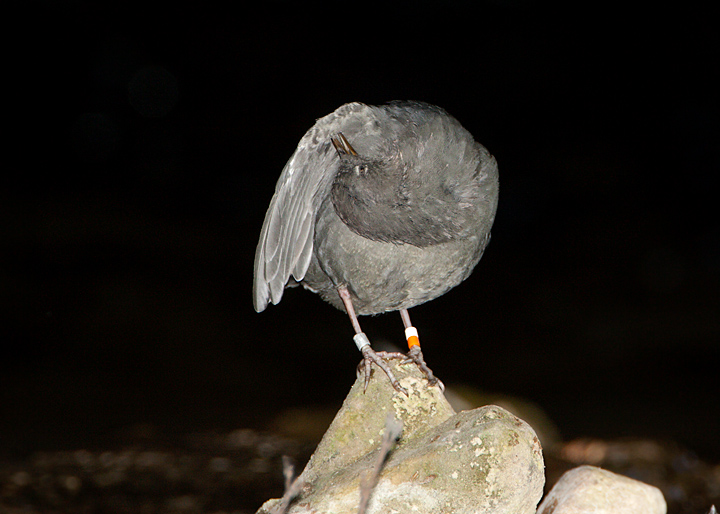 There were two juvenile dippers with her that I suppose are her offspring from this summer. Here's some photos of one of them foraging about 15 ft. from me. I had to use flash as I was under a bridge. The dipper showed no response whatsoever to the flash.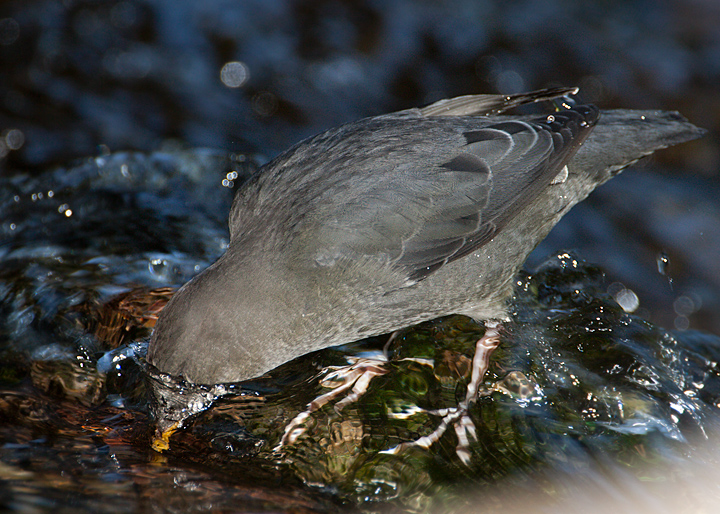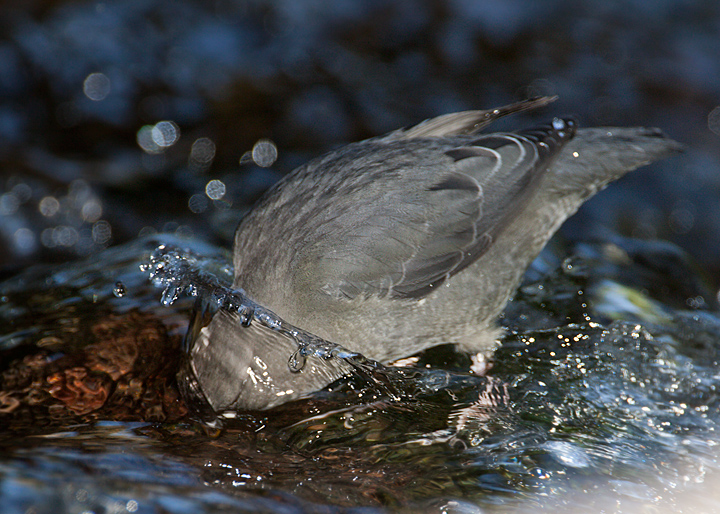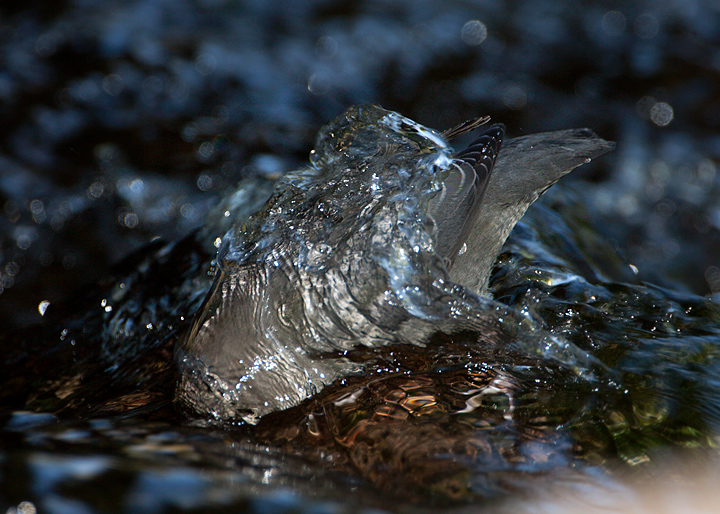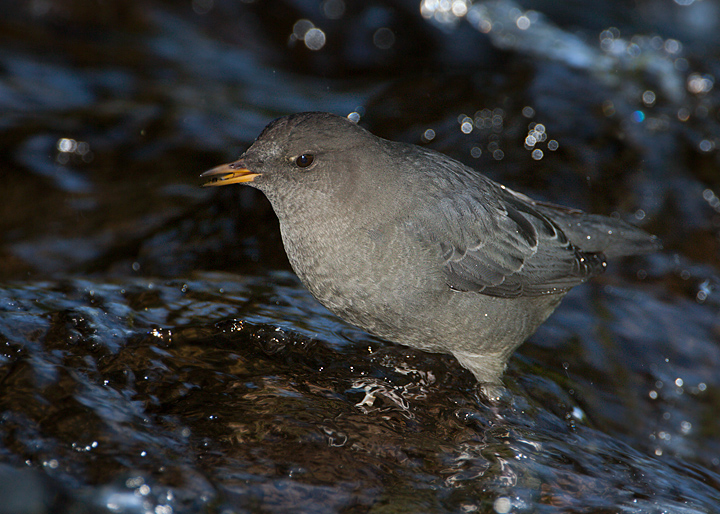 Previous Report July 13, 2011
I banded this female dipper on April 19, 2005. She was an adult when banded. She has nested at the same location every year since and was last seen on July 13 of this year. At this point, she is close to the longevity record of American Dipper, which is 7 years 2 months. (The Bird Banding Lab assumes a June hatching date for all species banded as adults. June is therefore assumed to be month 00 with July month 01, August 02, etc.) If she can hang in there for a while longer she will break the current longevity record. If anyone is interested in helping to monitor this dipper, let me know and I'll give you the location. There may be other color banded dippers still alive on Spearfish and Whitewood creeks, I banded over 50 from 2002-2005. I'd appreciate hearing about any banded Black Hills dipper that might be sighted.
To read more about longevity records visit this link:
http://www.pwrc.usgs.gov/bbl/longevity/Longevity_main.cfm

Photographed July 13, 2011